With fatigue being the cause of 20% of all on-road crashes¹, it's crucial that all drivers, business and personal, take steps to avoid driving whilst tired. Read our tips below and download our FREE posters – great for reminding your drivers of the main ways to avoid drowsiness behind the wheel.
Take breaks. Splitting up long stretches of motorway driving can help to avoid drowsiness. It's good practice to stop at least every 200 miles or 2 hours of driving, making sure to stop before the fatigue sets in.
If necessary, plan an overnight stop. If you feel too tired to carry on driving, then book yourself into a hotel at the next service station and sleep it off. Wake up fresh with a good breakfast and carry on your journey.
Avoid driving in the evening. If possible, avoid the two peak times for sleepiness between 3-5am and 2-4pm where our natural sleep cycle makes us more prone to feeling tired.
The effects of losing one or two hours of sleep a night on a regular basis can lead to chronic sleepiness over time. Ensure you are feeling fit and healthy before you set off.
Coffee with caution. It's good to note that a high-caffeine drink may be a quick fix, but it is not a long-term solution and certainly no substitute for proper sleep.
If you have taken prescribed medication, then seek advice from your GP as to whether you should be driving or not. If bought over the counter, then read the instructions on the pack or speak to a pharmacist.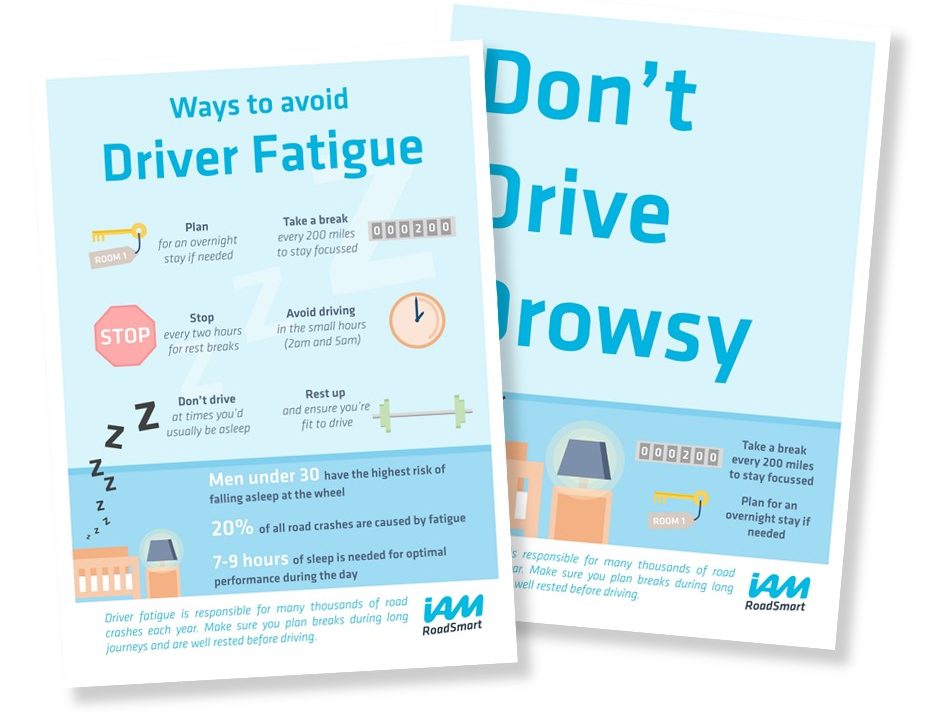 Download our free tips posters below. Print and display them in areas where they'll be seen so your drivers will be reminded of the best ways to avoid driver fatigue.