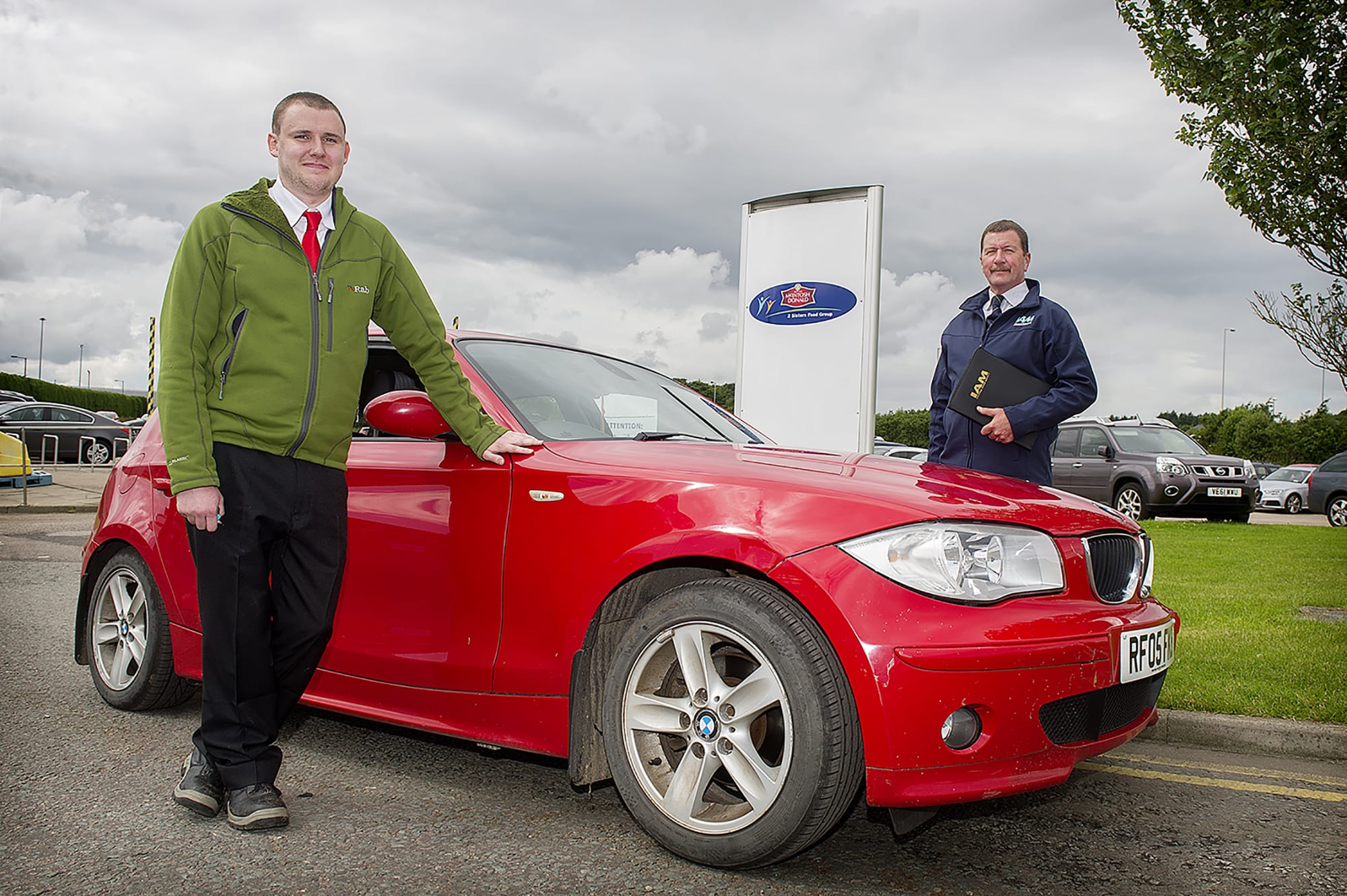 Behind the scenes of IAM RoadSmart's training programme for 2 Sisters, one of the UK's largest food companies.
If you've never heard of 2 Sisters Food Group, then you'll certainly have heard of its brands. Fox's Biscuits appear all over the country when elevenses-time rolls round, while many a freezer contains a Goodfella's pizza. And Christmas wouldn't be Christmas without a Matthew Walker pud.
A company that size employs a lot of drivers. Around 1,100 take to the road regularly on 2 Sisters business, using either their own or company vehicles – and as a responsible business, the firm seeks to minimise any risk.
Employees may be meeting customers, or simply getting from one of the group's 43 sites to another. No matter what the circumstances, 2 Sisters has a corporate responsibility to ensure that its colleagues drive safely without endangering themselves or other road users.
Over the past three years IAM RoadSmart has been helping it achieve that goal, says group health and safety improvement manager Jonathan Wensley. Full use is made of IAM RoadSmart's licence checking service, he reports, so that 2 Sisters is kept fully aware of any points that may have been incurred but not disclosed. "We have operations in the Republic of Ireland as well as in the UK, and
we can check Irish licences, too," he explains. "Everyone's licence is checked annually. If a driver has four to eight points, however, it's every six months – and if nine points or more, then it's every three months."
Self-declaration
If a driver uses their own car on company business, they have to complete a self-declaration that the vehicle is insured, serviced regularly and – where applicable – is covered by a valid MoT certificate. Every three years all 2 Sisters drivers must undergo an online risk assessment organised by IAM RoadSmart, using something called Virtual Risk Manager. "They are emailed individually and invited to participate," says IAM RoadSmart account manager Rachel Dale, who works closely with 2 Sisters.
"The driver is emailed a unique PIN number to complete the assessment, which takes about 45 minutes," Jonathan continues. "They are faced with a variety of questions and activities to complete in varying situations to determine a risk rating."
"We tend to find most drivers end up being classed as low or medium risk, but we'll have two or three per cent who are identified as high risk. All drivers must complete some level of training, and high-risk drivers go on a one-to-one half-day practical course with an IAM RoadSmart trainer." The trainer can identify where they are going wrong at the wheel, and provide help and advice.
"Drivers tend to be somewhat reluctant to attend this course, but the feedback is almost always positive once they've been on it," Jonathan explains. So, what training do low- and medium-risk drivers do? Well, they are all expected to attend a one-off three-hour seminar on how to behave at the wheel. It too is organised by IAM RoadSmart, and it covers everything from correctly identifying road signs to defensive driving and behaviours.
On-the-road training has another role to play at 2 Sisters, says Rachel. "All drivers who are under 25 or who have had a licence for fewer than two years are expected to attend the one-to-one half-day practical course," she explains. All new recruits have to undergo a licence check and risk assessment before they're allocated a company vehicle or an allowance. "What we're able to do is provide a complete breakdown of every driver in the company, including the status of their licence and any training they've had," says Rachel.
IAM RoadSmart provides posters to help create a culture of safe driving, and 2 Sisters runs campaigns throughout the year to help raise risk awareness.
"In the run-up to Christmas, for example, we remind people of the dangers associated with driving the morning after if they've been drinking the night before," Jonathan says. The alcohol will still be in their bloodstream even if they have had a full eight hours' sleep, and may remain in their system for some time after – belying a common misconception that it's safe to drive after a night's sleep.
Safety measures
The firm foundation IAM RoadSmart has provided means that 2 Sisters can now go on to adopt further safety measures. "It's still very early days, but one of the things we're considering is telematics-based on-board behaviour-monitoring systems in vehicles used by drivers whom we know are high risk," Jonathan concludes. Such systems monitor harsh acceleration, brutal braking and over-enthusiastic cornering; all signs that the individual behind the wheel is an accident waiting to happen. If such conduct can be identified, then it can be addressed – before it is too late.
(From RoadSmart, Autumn 2017)