For many people the idea of going electric may seem a daunting prospect with concerns over range, price, and suitability for their business. However, new government proposals could help to smooth the transition to a greener fleet.
Last week as part of the first ever 'WorldEVDay', Transport Secretary Grant Shapps announced the government's plans for 'turbocharging [their] commitment to improving air quality, driving down emissions and encouraging drivers to make the switch to cleaner, greener vehicles.'
With the UK's goal of bringing all greenhouse gas emissions to net zero by 2050, these latest initiatives are the beginnings of achieving that target in both the private and commercial transport sector. For fleet managers up and down the country these new measures could make it easier to switch to an electric fleet by supporting the purchase of electric commercial vehicles and by making them a more viable option for the drivers themselves.
Below is our roundup of the announcement and its impact on business drivers.
What help is available?
£12m for research and development.
This funding will go on to support 'significant commercial opportunities, one of which could see cars of the future benefit from a 6-minute battery charge', and while the impacts won't be immediately noticeable, the long-term effects of research such as this could transform the EV industry by lowering the existing barriers to entry many consumers face today such as charge times and financial investment.
£9.3m 'try before you buy' scheme.
Another big announcement was the proposed introduction of the 'try before you buy' scheme, which will allow businesses to receive a free trial of electric vehicles for 2 months before committing to a purchase. For many fleets this could remove some of the uncertainty about going electric, while at the same time allowing drivers to get hands-on and offer their thoughts about the switch.
Electric vehicle hub – AutoTrader
Auto Trader's new 'electric vehicle hub' is a new dedicated page that allows buyers to search solely for electric vehicles. Improved search functionality such as filters for battery ranges and charging time will allow fleet managers and consumers to make more informed decisions about electric vehicles.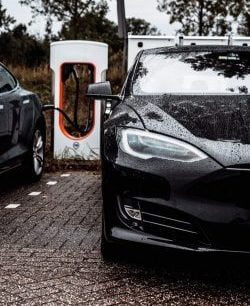 "From multi-million-pound investments in electric vehicle charging points to consulting on ending the sale of new petrol and diesel cars and vans, we're making certain that the future of UK transport is green."
– Business and Industry Minister Nadhim Zahawi 
What other changes are proposed?
Green parking spaces
The government has also stated they are considering recommendations that include painting EV parking spaces green. While this would be a small benefit to EV drivers by creating more dedicated and obvious parking, it does represent some of the more visible changes that we may expect to see on the UK roads.
Increased charging points
The announcement also featured proposals for a greater number of charging stations at popular destinations such as supermarkets and tourist hotspots. This may be particularly useful for fleets that have a large number of field-based drivers who may have range anxiety about going electric. These new plans could be the start of a much greater prevalence of EV charging infrastructure across the country, and combined with schemes such as the Workplace Charging Scheme – a grant offered to eligible businesses to help with the costs of installing electric vehicle charge-points – it soon could be easier than ever to charge a vehicle wherever the driver needs to park.
Clean air zones
While COVID-19 has delayed the introduction of Clean Air Zones (CAZs) across the country, many of those planned will eventually still be enforced. If you operate a petrol or diesel fleet, it's worth thinking about whether your decision to go electric could be influenced by these new CAZs. For more information on CAZs, please click here.
Make sure you're ready
The schemes announced last week show the continuation of a greater commitment to electric vehicles by the government and local authorities. While small-scale projects such as green parking spaces and licence plates offer fringe benefits for drivers, the large-scale investments present an opportunity for the fleet sector to go electric with confidence.
It's important that fleet managers are prepared to take advantage of the proposed initiatives. However, while 1/3 of all road traffic incidents involves someone driving for work, it's also vital that business drivers are able to adapt to driving electric vehicles in a way that does not compromise the safety of themselves and other road users. Our EV Familiarisation course has been designed to ensure a smooth transition to an electric fleet, and depending on availability may be provided fully subsidised.