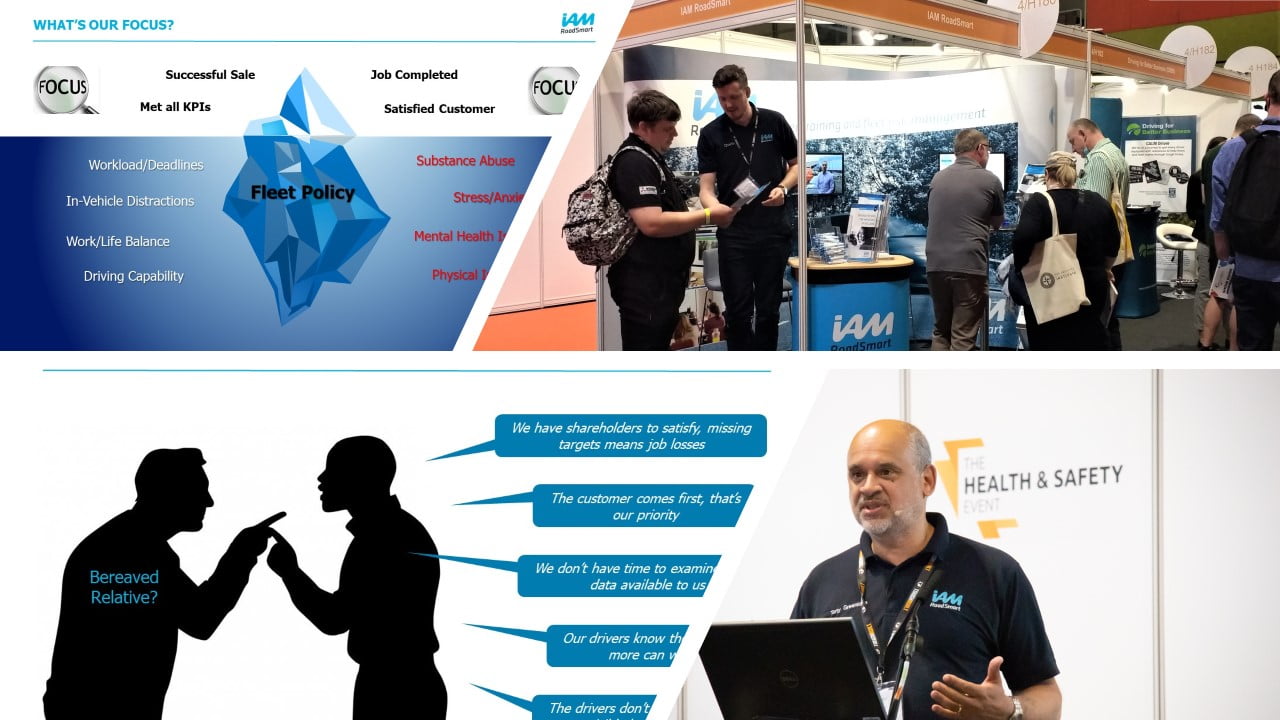 This year's Health & Safety Event at the NEC was our first opportunity, in what seems like an age, to get face-to-face with people in the world of workplace safety. Over the last 18 months or so, there would appear to have been an intensifying focus on all matters pertaining to health and wellbeing, and on the ways in which businesses can adapt to accommodate new procedures that make people the priority.
Driving for Better Business, the government-funded campaign group with a focus on promoting work-related road safety, invited IAM RoadSmart to exhibit alongside them as part of the event's 'Driver Safety Zone'. This new feature of the exhibition provided a programme of content focusing on strategies for improving the safety of business drivers: something especially relevant to these times in which mounting pressure on the logistics sector, changes to people's driving habits and ever-growing grey fleet numbers are causing challenges for employers and employees.
Maintaining focus on business driving
Unlike on-site operations, driving for work generally takes place out of view of managers, and is also frequently treated as an employee's way of getting to their job, rather than as an integral and essential element of the job itself. Our CEO Tony Greenidge highlighted this point in his presentation; part of a panel session on the subject of safety culture. Establishing a culture of safe working is already a challenge for businesses; maintaining a focus on work-related driving as part of that culture is a hugely important part of keeping both employees and the public safe from harm.
Businesses with poor safety practices may seek to justify their failings, citing commercial reasons for prioritising operational demands over the safety of employees. Drivers may be subject to unreasonably tight schedules, the requirement to remain in contact while out on the road, and may be expected to shoulder excessive workloads that can make them susceptible to fatigue, all in the name of profit or operational demands.
Tony closed with a stark question for business of that cultural mindset. If you use those kinds of excuses to justify poor safety standards internally, how do you think those same excuses would be received by the bereaved relative of a worker or member of the public killed in an incident involving one of your vehicles? Safety culture cannot be a simple case of paying lip service to safety policies but must involve actions supported by a genuine interest in putting people first.
Adapting as the world changes
Businesses need to maintain an awareness of the ways in which the world is changing in order to ensure that safety culture does not stagnate and that processes remain relevant. Developments in vehicle technology, people's working patterns and even consumer behaviour are all driving ongoing change in business travel and the way fleets are managed. One key area is the continued rise of grey fleet numbers; an increasing number of vehicles used for business are not managed in the traditional way, and may fall off the radar of managers. At the Event, the Health and Safety Executive (HSE) took the opportunity to announce some long-awaited developments to their guidelines for employers on managing workplace driver risk, which are intended to detail the steps that businesses should take in ensuring that their policies cover employees who use their own vehicles for work purposes.
At the time of writing, the fully updated guidelines have yet to be released, but they promise to give employers the clarity and impetus to adapt their risk management strategies for the modern landscape, and we'll be summarising and reporting on them in due course.
A message to Members
IAM RoadSmart members reading this article will be pleased to hear that we were visited by quite a number of existing Members and current Associates at the exhibition. Perhaps it shouldn't bee too surprising that we have so many existing members who are part of the Health & Safety community, and that professionals within that arena have a clear appreciation of what we do and of the benefits of ongoing skills development.
If you too have a responsibility for workplace safety or fleet management, and would like to know more about how you as an IAM RoadSmart Member can become an advocate for driver improvement for your company, then please get in touch as we'd love to hear from you.
Easy solutions for managing driver risk in your business
How would you describe the culture within your business? Is safe working a key element, and does driver risk get the attention it deserves? For help and advice on ways to start embedding a culture of safer business driving, get in touch with us today.
For more insights, whitepapers and road safety tips visit our FREE RESOURCES page